Committees
If you are interested in participating in a committee please send us a note.

Black Fly Control
The goal of the Black Fly Control team is to treat our waterways with Bacillus Thuringiiensis Israelensis to reduce the hatching of black flies. Spring and summer applications along the Independence River, Upper Chase's Lake and the outlet below our lake have proven to dramatically reduce the population of black flies. This treatment program is accomplished with a permit from the DEC and licensed applicators. It is a big job both from a paperwork and implementation standpoint.

Fish Stocking
Fish have been stocked in our lake for more than 50 years thanks to the generous donations from shore owners and volunteers. Small mouth bass, walleye, brown trout, rainbow trout, crappie, and blue gills can be found in our Lake. To support the continued practice of stocking our Lake please consider a contribution to the Fish Fund.

Water Quality
The most important thing we can do is our best effort to keep Chase's Lake as clean as possible. To that end, cleaning kayaks and paddle boards of possible invasives, turning over the Lake to siphon off contaminants in the fall, and regular water testing to monitor changes and comparisons to other lakes in our region will help ensure our Lake stay beautiful for future generations.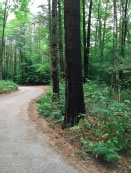 Roads
North Shore, South Line , East Shore roads are owned by the Association. The Association has a right of way over privately owned West Shore road. Shore owners and their guests have the right to walk, ride horses, drive cars or other motorized vehicles on these roads. Regular summer maintenance including york raking and the addition of stone is covered by the Association. Snow removal is managed by each road.

Long Range Planning
This committee is focused on preserving the natural woodland character of the Lake, purity of our water, maintaining a friendly social atmosphere, and adherence to the Adirondack Park Association regulations.
*Educational Presentations